SIGN UP FOR NEWSLETTER
Seiðr– Vocals, Studio Guitars, founder. (Also in Serpent Omega)
Arant– Studio Drums, (Also in Blackest, Witch of 1692)
Osgilliath– Studio Bass since 2021 and live bass since 2019. (Also session in Mist of Misery )
Ex. members:
Alex Purkis- Bass (studio only 2017-2019), Also in Craft, Kall, Hypothermia (ex. Shining)
Tatu Kertula– Drums (live only 2019-2020) (also in Wormwood, Katharos, Neuronaut)
Jimmy Wistrand– Back up vocals (live only 2019-2023) (also in Sepulchral Frost)
CURRENT LIVE LINE UP:
Seiðr– Vocals
Simon Samuelsson: Drums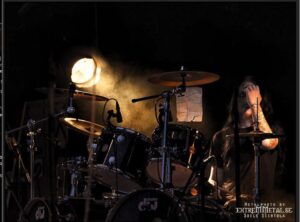 Osgilliath– Bass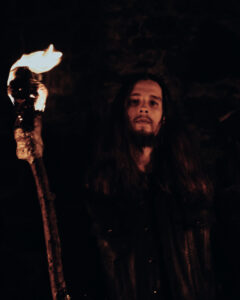 Herjann Svolnir– Guitar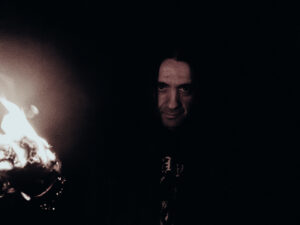 Reynir Helgason– Guitar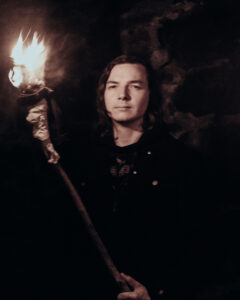 BIOGRAPHY LONG VERSION
The roots of SEID anchorage in dark Scandinavian woods. They spread out from burial mounds of Gamla Uppsala and absorb Old Norse heritage from the heart of Svealand- a place dedicated to Óðinn, Þórr and Freyr centuries before worshippers of Jesus Christ deceived their way into Scandinavia bringing religion unknown to Norsemen with corruption and fake promises of salvation as their weapon.
SEID is a Norse Black Metal band founded and created by Seiðr Jonsson as the one and only band member.  Growing up in the shadows of unnamed kings buried in ancient mounds, breathing air full of long forgotten sagas about royal blood of Ynglinga and Sigurd the dragon slayer, wandering among ancient rune stones filling the landscape and listening to whispers of sacrificial groves had great impact.
The predecessor of what today is SEID was Neocrome, an early idea created in the head of wild, wolf-spirited teenager, written down in an old red notebook. This manuscript filled with guitar tabs, drawings and words about Old Norse, like grimoire filled with black magic spells and staves, became a tape release more than two decades later, in 2018, including recordings being written in juvenile years of 1992-1995 highly inspired by his countrymen in Bathory, Marduk and Dissection.
Constant need of creation and music playing made Seiðr to be involved in many different bands and genres throughout the years but Norse Black Metal never stopped to call his name. While being focused on extended studio work and music production, Seiðr felt an urgent need of fulfilling his role as heir of Old Norse paganism and Scandinavian black metal. In 2009 he recorded a track titled Red Eyes Black Skull and that was the beginning of SEID. One more track, Empress Hel, was recorded by Seiðr solo as well, and then he started his cooperation with three different drummers creating three demos all of which ended up as the demo collection album called "The Woods" (2016). It includes the most significant pieces of that time with Red Eyes Black Skull, Valknut, Death of our Chieftain, Tubal Cain or Empress Hel among others. The album was recorded, mixed, mastered and produced in Seiðr's own Dark Prod Studios (www.darkprod.com).
"The Woods" became a thunder igniting a wildfire. By the end of 2017 another SEID full length album was released by Urtod Void – "Darkness Shall Fall". Arant, one of the drummers from "The Woods" (also in Witch of 1692), and Alex Purkis on bass (aka Phil A. Cirone, also in Craft, Kall and ex-Shining), had now joined the ranks permanently. Together with Seiðr they created a mind blowing album inspired by Old Norse beliefs and sagas as well as the shamanic path chosen by Seiðr. With its dark and cold like northern winter night sounds, Darkness Shall Fall was very well received. It was a beginning of a new chapter in the band's and Seiðr's own life.
In August 2019 a third full length album was released. The album is named "Ulv" and shares its name with Seiðr's firstborn son. Both Ulvs became heirs of Old Norse traditions and Seiðr's own beliefs that one day Asatru will be reawaken and rise against Abrahamic religions and more importantly modern society's way of rejecting traditions, identity and code of honor replacing it with social media, undermining the family as a concept and brainwashing globalistic agendas imposed by corrupted politicians.
SEID had up to this point been a studio project but the focus was now set on playing live.
A live line up was raised and two shows were made in 2020, one with our friends Domgård at The Abyss in Gothenburg and the other with our friends Mara in Malmö… just weeks before Covid-19 closed everything down.
In 2022 a new album was released Svartr Sól and then it was time for shows again (with a new live drummer Simon Samuelsson ex. Ofermod), this time in Stockholm, with Ereb Altor and Hetroertzen, and later in the summer of 2022 SEID also played Gefle Metal Festival.
_______________________________________________________________________
BIOGRAPHY  SHORT VERSION
SEID is a Norse Black Metal band based in Stockholm, Sweden (www.norseblackmetal.com). It was formed in 2009 as a lone wolf project by Seiðr. Philosophy of SEID oscillates around Old Norse sagas and beliefs, paganism, seiðr rituals and norse shamanism, runes, war and glory – all the best Swedish black metal has to offer.
Current studio line up consists of three members:
Seiðr – Creator and mastermind, vocals, guitars and producer, also in Serpent Omega. Resides in Stockholm
Arant – on drums, also in Witch of 1692. Based in Alabama, USA
Osgilliath (bass)
Alex Purkis (aka Phil A. Cirone) – bass, also in Craft, Kall and ex-Shining. Resides in Stockholm
In February 2022 a fourth full-length album was released. The album was named "Svartr Sól".
For bookings, reviews, interviews feel free to contact seidsthlm@gmail.com
________________________________________________________________________
If you are interested in SEID be sure to read this interview with Seiðr:
SEID on Encyclopaedia Metallum: